Christmas Day Gift Pack
Christmas sorted. Crafted to be consumed on Christmas Day by the discerning foodie
More info
Mount Maunganui Locals
When you work at the Mount sometimes you just need to take a break and head for the surf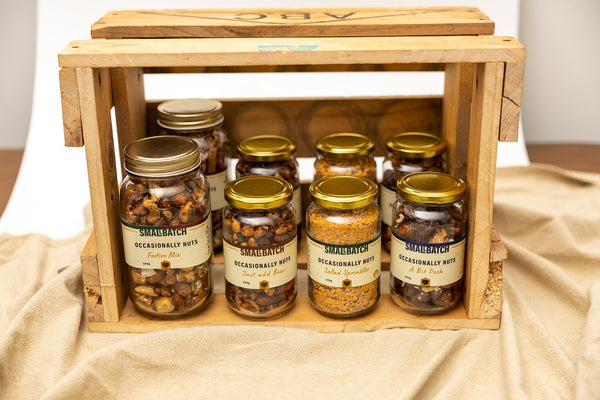 Occasionally Nuts
Check out our new gourmet nut range. Each variety carefully crafted and totally unique
More info
I am addicted to it! I just eat it straight from the jar and can't stop once I start.I have had other chocolate peanut butters but yours is definitely the best.
Keely from Whitby Wellington

SUPER BUTTER, SUPER YUM!!
Super Butter is everything it says it is and more! I love it, my girls love it and my husband loves it. No nasty ingredients, spreads easily, doesn't stick to the top of your mouth and is great for that extra protein in our smoothies. This is the only thing I will let my girls eat straight from the jar as I trust all the ingredients. Thanks Small Batch!
Chantelle 

I think I may of become addicted to the Honey and Peanut Butter. Love, love, it on my toast, with a bit of sliced banana! Nice work Small Batch
Andrew N.

Just having your Streichcreme on toast, its good s#%$! Has anyone told you it compares to a pate for all us vegans out there?
Ben T

Small Batch have never disappointed when it comes to quality and they have a awesome selection to choose from. Thanks Small Batch.
Peter R.
Your new Streichcreme is to die for. Love it with toasted sourdough and a glass of wine. Too easy to eat.
Andrea C.
small batches
We craft our peanut butter and nut butter slowly with care. We care about the outcome and only use the best ingredients
If your looking for a super food then try our amazing super butter.
Made by hand in small batches and good enough to eat just from the jar. A complete protein food with the added benefit of selenium from the brazil nuts for healthy brain function!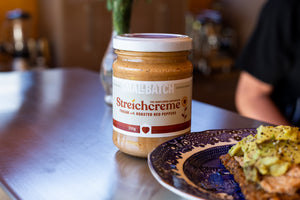 Streichcreme, roasted beetroot with ginger
It's a silky-smooth, amber coloured spread whose primary ingredients are grilled capsicum, sunflower seeds and cashew, in our humble opinion, and is positively addictive.
shop now
Oh so very smooth
If its smooth peanut butter you want than this is the best, roasted to perfection in small batches to ensure the best flavour and quality.
shop now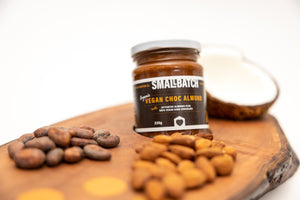 Organic Activated Almond & Vegan Chocolate
New organic, vegan chocolate made with coconut milk and organic activated almonds for enhanced nutrition. A true tonic
Buy now